Yoga therapy at home
Creating yoga therapy and yoga for people with complex intellectual and physical disabilities is my passion. Yoga therapy does not require any active physical involvement of the person to be taught. Depending on the needs and physical conditions, shapes are adapted, into which I accompany the students with my full awarenesses. Tools such as pillows and blankets are used and offer important support and comfort at all times.
Thai Yoga Massage also belongs to the yoga therapy and is befeficial for everyone! Pressure techniques, dynamic massage techniques and stretching are brought together and make the traditional massage therapy holistic. The Thai Massage is practiced without oil on a futon or mat and the student wears loose clothing. There is always a short preliminary talk before the individual session.
Yoga therapy can take place in the comfort of your house or the studio.
Do you want to let your child with a disability participate in yoga and the holistic massage? No problem! Read more about children's yoga here or contact me directly. I have many years of experience in dealing with people with different skills and disabilities.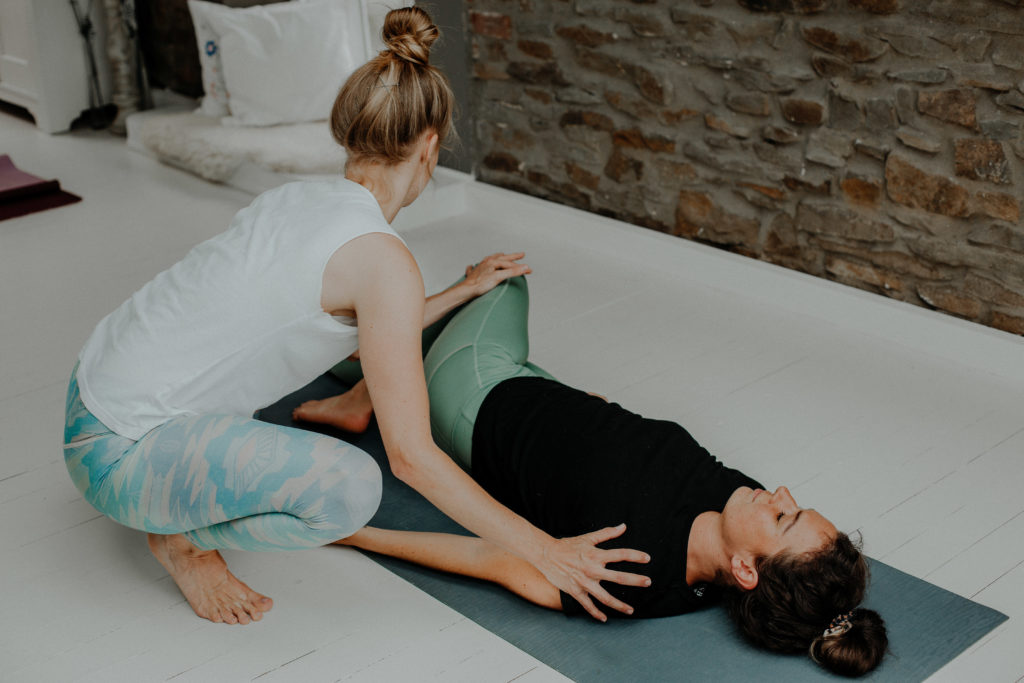 Yoga private lessons: at home or in the studio
Traditionally, Yoga was practiced in private lessons. Why not do so today? Private lessons can take place at home or in a studio.
In one-to-one lessons, the focus is on the individual with their current life situation. The lessons are based on the foundation of yoga in combination with the healing art of Ayurveda. The exercises (meditation, breathing and physical exercises) are chosen according to the benefits for the practitioner: Sometimes rather calming, sometimes activating, but always with a focus on the student and his or her wishes. The class results in a balancing effect with the aim of bringing you and your body into balance. The intensive lesson gives you the opportunity to build up your own yoga routine. In order to ensure that your lessons are completely tailored to your needs, there is always a short preliminary talk before the individual lesson.
---